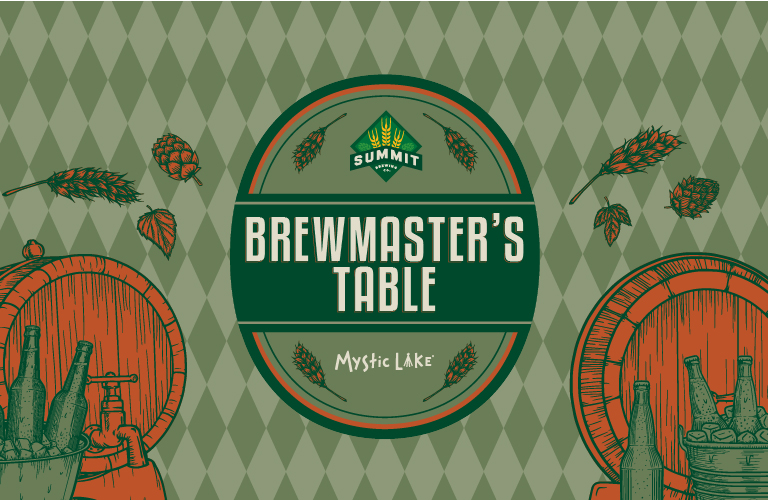 Enjoy an exclusive six-course meal from Executive Chef Mark Stankey during Brewmaster's Table presented by Summit Brewing Company. Each course has been perfectly paired with a delectable Summit Brewing selection guided by a Summit Brewmaster.
Summit Beer Dinner 2023
Triumphant Session IPA –
Lobster Tempura, Grilled Pineapple, Soy, Wasabi Aïoli, Pickled Ginger Sauce.
Extra Pale Ale –
PEI Mussels, Caviar, Guanciale, Croutons, Watercress, Saffron Tomato EPA Sauce, Hot Rock Salt and Fennel Aromas.
Saga Hazy IPA –
Kanpachi, Black Garlic, Seaweed, Sea Salt Lime Dusted Shishito Pepper, Kimchee Fish Broth.
Intermezzo –
Ice Sockel, Saga Hazy IPA Granita, Passion Fruit, Raspberry, Kiwi Sauces.
Oktoberfest –
Pretzel Crusted Beer Braised Pork Belly, Chicharrón, Corn Purée, Romanesco, Mustard Beer Sauce, Black Pepper Crème Fraîche, Parsley Aïoli.
Great Northern Porter –
Rich Great Northern Porter Chocolate Cake and Chocolate Mousse Filling, Caramel Corn, Malden Sea Salt.
Mignardise –
Passion Pâte d' Fruit, Chocolate Croquant Truffle, Mexican Caramel White Chocolate Praline.
After dinner, join us on the patio and relax by the fire pit while listening to live acoustic music from Alex Rossi. Learn how to roll a cigar or try your hand at some yard games.
Reserve your seat at the table today!
More Information